Defining a Disruptive Business Model for Success

Disruption , if you look it up in a dictionary means 'disturbance or problems which interrupt an event, activity, or process'....a pretty negative connotation ! But, disruption can be good for business & entrepreneurs. Especially new entrepreneurs because with relatively meager resources, you could create disproportionate impact , success & wealth.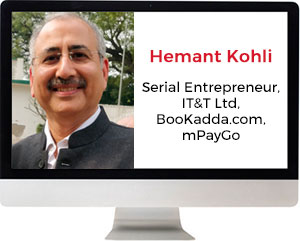 Hemant Kohli is a career entrepreneur with over 25 years experience. He co-founded IT&T Ltd in 1990 when just 24 years old along with group of other senior colleagues. IT&T started as a bootstrapped venture, grew to a pan-India presence , got listed in 2000 and was eventually acquired by a US Co. when he was CEO there. He subsequently dabbled in a few other ventures before spear heading Bookadda.com, as its CEO & Cofounder & was last heading a fintech.

Hemant brings experience of raising money, floating an IPO,JV and M&A. His strengths are leadership, passion, sales, technology understanding, business development, strategy, people management, communication and eye for detail. His goal is to keep on creating meaningful organization/s with sustainable, long term value for self and society.