Welcome to the World of Remote Working
The current situation has made it imperative for us to stay away from our physical offices for work. As ' Work from Home' becomes a new norm; it brings with it challenges including the inability to collaborate virtually, video call glitches, scheduling nightmares and many more.
As of now, remote working may seem as a stop-gap arrangement adopted in crisis, although it can actually replace the need of a physical office if used efficiently. This webinar will introduce you to a seamless solution which makes it easier to work from home, called Lark which has tools like Messenger, Calendar, Docs, Video Conferencing, BOTs among others .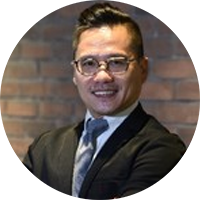 Bernard Tan
Head of Marketing and Communications - Lark


Bernard is a business leader with 18 years of IT experience. Currently, he is the Head of Marketing & Communications for Lark Technologies. With previous working experiences and Red Hat and IBM, Bernard is the new breed of Techno-marketer who has blend latest technologies such as A.I with data driven marketing.