While India has been at the forefront of the startup revolution, when it comes to empowering women entrepreneurs as compared to their global counterparts, we still have a long way to go. A mere 14% of the businesses in the country are run by woman entrepreneurs. Despite these challenges there are some who have soared high and overcome all obstacles to survive and thrive.

In chaotic times like these, it's good to be reminded that we are all in this together. That this unchartred territory for all. We're bringing stories of grit and what these founders are doing to survive and thrive during this time. These times could be anxious for startup founders, from once worrying about innovation and scaling up, they now stare at survival.

The Friday Forum brings you real stories of struggle and success. Of grit and knowing that we will make it through.

Anisha Singh,
Founding Partner,
She Capital
Ankiti Bose,
Co-Founder & CEO,
Zilingo
Stories of Grit & Perseverance
Neha Singh ,
Co-Founder,
Tracxn
Rituparna Chakraborty,
EVP & Co-Founder,
TeamLease
Neha Kant,
CEO & Director,
Clovia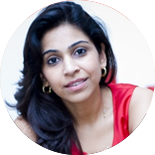 Anisha Singh,
Founding Partner,
She Capital